Julian Missig
I graduated in December 2006 from Carnegie Mellon University with a Master of Human-Computer Interaction degree. In May 2006 I finished my undergraduate degree, a B.S. in Cognitive Science with an additional major in Human-Computer Interaction.
My resumé [pdf] more briefly illustrates my overall history, while this site details projects which (hopefully) further illustrate my strengths in Usability, Cognitive Science, and Programming.
Unless otherwise indicated, the papers posted here were not published in peer-reviewed journals; they were merely written for classes.
What do I do?
I am not a graphic artist; I don't draw icons. To understand what I do, one of my favorite breakdowns of usable software design is Jesse James Garrett's The Elements of User Experience (view the original diagram). I have taken his diagram and placed next to it a small selection of some of the methodologies I am familiar with. This is what I do.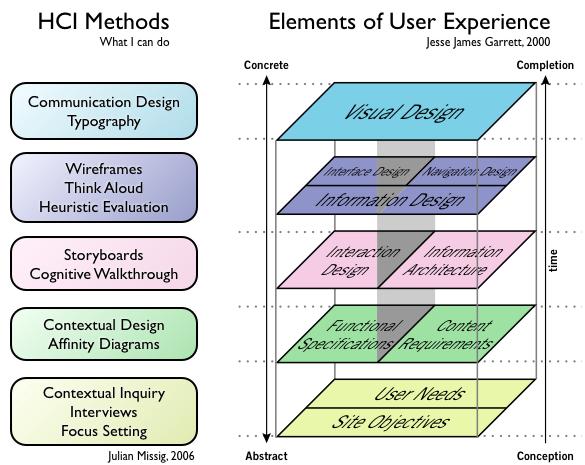 Larger Projects
Below on this page I have listed smaller projects and papers for each of my strengths. At the top of this page are links to my larger, longer-term projects:
Emerson DeltaV

DeltaV is process control automation software that power plant, refinery, biotech, and chemical processing operators sit in front of and use ten hours a day on shifts. For the Carnegie Mellon MHCI Capstone Project, my group explored new interface displays and controls for use with the next generation of DeltaV software. A large part of the project was simply understanding the problem domain. I stepped up as project manager when our group had dificulties.

05-671 MHCI Project, Spring and Summer 2006





iChat and Gabber: Interfaces Investigated

I wrote this paper attempting to "bridge the gap" between academia and the real world by comparing iChat and Gabber's interfaces with some of the Computer-Mediated Communication research problems.

I discovered that many of the problems iChat and Gabber are attempting to solve were at least discovered by Computer-Mediated Communication several years ahead of time—but the solutions offered by the industry are different from those researched by academia.

05-499K Computer-Mediated Communication, Spring 2005





Palm Redesign

The final project for my HCI Methods class involved using all of the data from the HCI methods we learned to motivate a redesign of the Palm OS 3 interface. This was a group project, and the actual writing is a bit dense—I recommend skipping to the appendix to read the design ideas there.

05-410 HCI Methods, Fall 2004



Lateralization of tone processing in tonal language speakers

The question seems simple: If language is processed in the left hemisphere, but tones are processed in the right hemisphere, then where are tonal languages (such as Mandarin or Cantonese) processed?

This paper reviews some of the work in the area of tone processing and attempts to find answers to the aforementioned question in that work. The question does not seem to have been answered by current research. I suggest that future research needs to look specifically at whether or not there is a separation between tonal processing for language and tonal processing for music.

85-414 Cognitive Neuropsychology, Spring 2006





Implicit Memory versus False Memory

In this paper I investigate several phenomena in Implicit Memory and the False Feedback paradigm which would indicate there is a possibility that implanted false memories and implicit memories of a real situation could be retained separately and thus actually be at odds with one another.

If the conclusions I drew from these phenomena are correct, it may be possible to perform a test on memories to determine whether they are real or implanted. This paper proposes an experiment which may help bring us a step closer to understanding whether implicit memory is separate from implanted false memories. The proposed experiment puts the Wells and Bradfield (1998) False Feedback paradigm in opposition with the Chun and Jiang (1998) Contextual Cueing paradigm.

85-445 Memory Mechanisms and Phenomena, Spring 2005





Effects of Progress Bar Speed on Apparent Duration

For our introduction to research methods class, Daniel Dickison and I investigated the ability of progress bars to affect one's perception of time. We jointly presented a poster and we each wrote up our own full-APA style paper further detailing what we did.

85-310 Intro to Cog Sci Research Methods, Fall 2004



Cocoa Pie Menu

For a Software Architecture for User Interfaces class, I implemented a pie menu (also known as a radial menu) for Mac OS X. I did not know Cocoa (or Objective-C) very well ahead of time, so I learned Cocoa and put together this pie menu in the span of about two months.

05-341 Software Architecture for User Interfaces, Fall 2005



Julian Missig